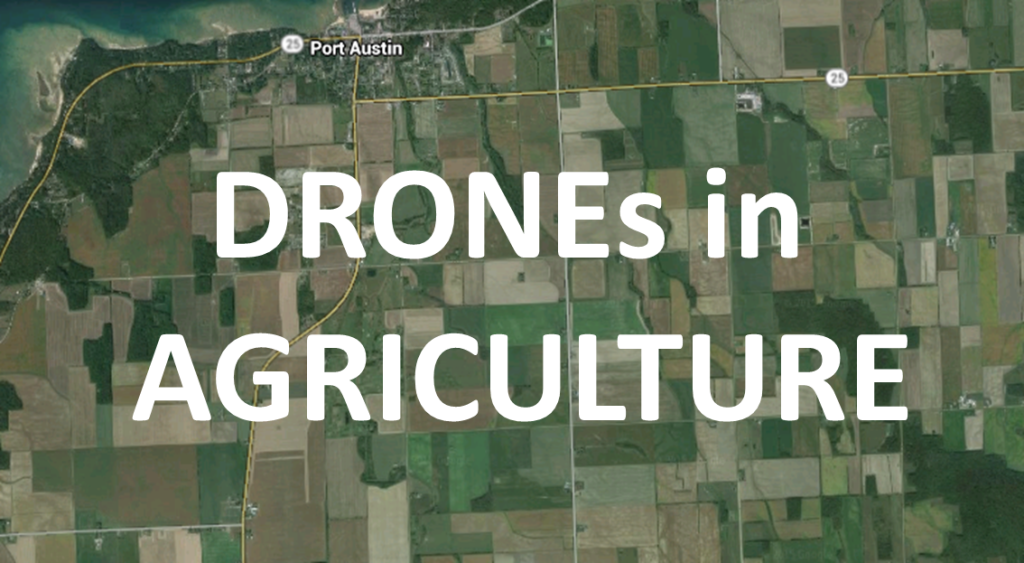 Drones in Agriculture:
It has been about a month since my last blog post.  I have been very busy supporting the AUVSI conference in Atlanta, visiting customers and even spent a week at our vacation place in Port Austin, MI.  That gave me the idea for this week's blog post.  Port Austin is located in the tip of the "thumb" in MI and is a small lake town but is located in Huron County which has a large farm industry.  The photo above shows Port Austin on Lake Huron and the surrounding farm area.
My drone experience has mainly been in the defense market so I needed to do some research for this post.  I also spent some time with my brother in MI who became the first person in MI to receive a COA from the FAA for Agriculture.  He is a Pioneer seed dealer in Sanilac County and purchased an AgEagle drone last year to market Ag services.  He still has some boxes to tick with the FAA before he can start offering paid services but he is on his way to provide these valuable services in the "Thumb area" of MI.  You can find out more about his capabilities and business at www.sechersitespecific.com.
So what is the big deal about drones in agriculture?  In the past, farmers would walk their fields to get a better understanding of insects, irrigation, growth, weeds, etc.  They also could use an aircraft to get an aerial view if they have a large farm but this can cost up to $1000/hr.  Several companies now offer small fixed wing electric UAV's with autopilots and cameras that allow the drone to fly over a field in a fixed pattern and the images can be stitched together using software and then analyzed.  The autopilot uses GPS for positioning and automatically captures images during flight.  There are also other payloads including infrared cameras that provide more analysis capabilities. Some companies that offer these types of systems are shown below: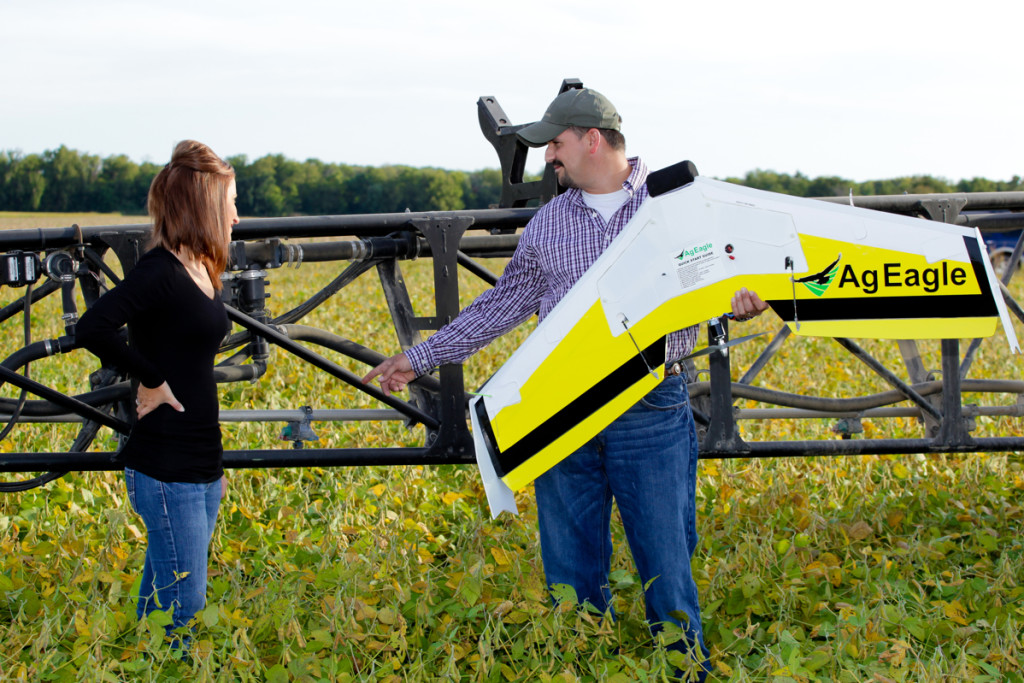 Figure 1: Ag Eagle (www.ageagle.com)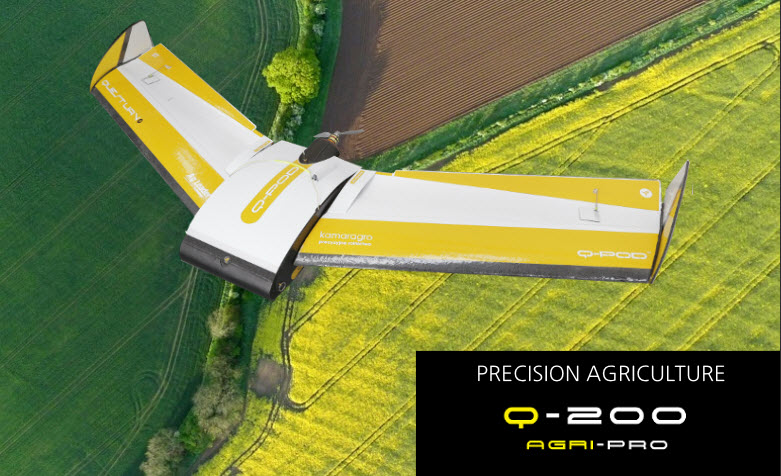 Figure 2: QuestUAV (www.questuav)

Figure 3: SenseFly (www.sensefly.com)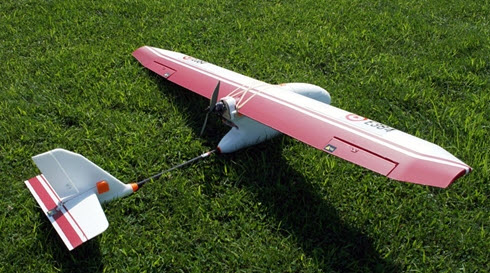 Figure 4: Event38 (www.event38.com).
There are others but I thought I would only note a few.  There are some quadcopters also being used for agriculture but for field mapping, they don't have the range that a fixed wing has so they are mainly used for photography in specific areas of a farm.  I did see on www.UASVision.com today there was a Kickstarter campaign for a gas engine powered quadcopter.  This would definitely improve range.  Pretty impressive video if you want to check it out:  https://www.youtube.com/watch?v=xDh4obvhChY.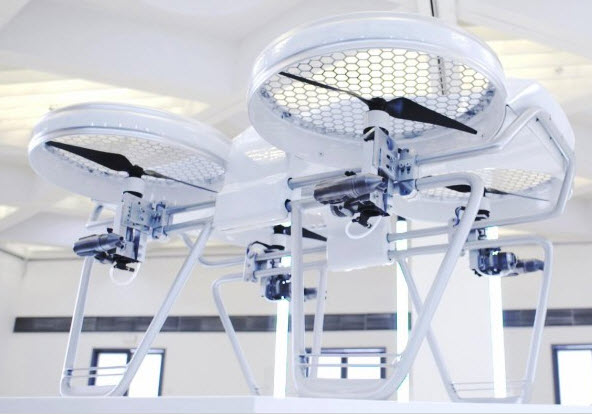 Figure 5: Yeair German gasoline engine powered quadcopter – Kickstarter campaign
Depending on the payload of the drone, there are several things you can learn about your crops.  You can do plant counts, check irrigation, capture thermal imaging to understand plant health, diagnose pest issues, and understand nutrient deficiencies.  All this will aid in proper management of the crops for best yield.  I don't have any relationship with Sensefly but their website for their eBee Ag drone has a good list of available sensors and what they can measure.  Check out https://www.sensefly.com/applications/agriculture.html.  Use of drones in agriculture is making "precision agriculture" possible.
Another use is in seeding and spraying, and Yamaha RMAX helicopter is the expert in this area.  This drone has over 1 million flight hours and was developed to seed and spray rice crops in Japan.  It is offered in the US but is pricey compared to the electric drones noted above for farm management.  I would think if you have a vineyard or some other crop that has critical spray needs, then this may be a good solution for your farm.  It also does precision agriculture management like the fixed wings but their primary purpose is in spraying.  You can find out more about this solution at http://www.yamahaprecisionagriculture.com/
Figure 6: Yamaha Rmax helicopter
As noted above there are several solutions for today's farmers to purchase or to purchase services to optimize their farming operations by using these high tech "precision agriculture" tools.  I am by no means an expert in this area but wanted to relay some solutions I have come across in my research and time working in the drone industry.
Key UAV News for the week:
Industry Events for the week:
Quote for the week:
"For of all gainful professions, nothing is better, nothing more pleasing, nothing more delightful, nothing better becomes a well-bred man than agriculture."  Marcus Tullius Cicero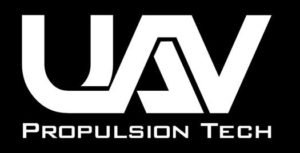 UAV Propulsion Tech is unmanned aerial vehicle (UAV) hardware solution provider of propulsion, servo, autopilot, rescue/recovery parachutes, electric turbofans, pneumatic launchers, capacitive liquid level sensors, engine sensors and gyro-stabilized EO/IR gimbal solutions. Click on the HOME link above or go to www.uavpropulsiontech.com for more info.