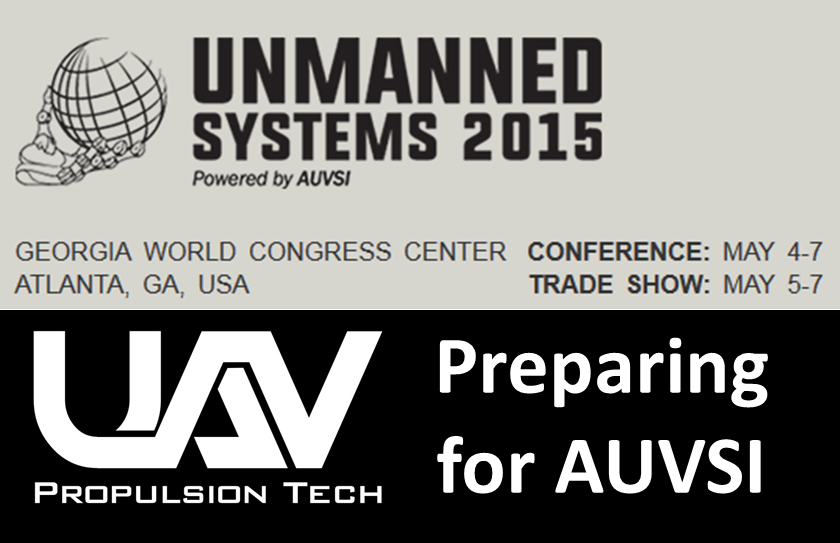 Preparing for AUVSI:
AUVSI's Umanned Systems 2015 trade show is next week (MAY 4-7) in Atlanta, GA.  I have been attending this show for the past 10+ years.  They used to alternate between west coast (Southern California) and east coast (DC area) but have been expanding beyond these areas.  Last year it was in Orlando and next year it will be in New Orleans.  Here is AUVSI's website link to help plan your trip: http://www.auvsishow.org/auvsi2015/public/enter.aspx
I thought I would say a few things about this great unmanned systems international event.  There is a focus on all things unmanned (including ground and water) but my focus has mainly been focused on unmanned aerial vehicles (UAV's).  The show recently has also been more focused on the commercial side of the UAV market including lower cost multicopter and fixed wing solutions for aerial photography, police, agriculture and new markets that are opening up every week that are taking advantage of these tools.  I market propulsion, servo, autopilot and rescue/recovery parachutes for the UAV market so I support several companies during the week.  These include Orbital (heavy fuel UAV engines), Hirth (COTS/Custom propulsion and starter/generators), Volz (actuators), Skygraphics (rescue/recovery chutes) and MicroPilot (AutoPilots).
I will arrive into the Atlanta area on SUN, support set up of exhibits on MON support the trade show during the week.  The trade show goes from TUE -THUR.  The areas I will be supporting are:
Hirth booth #2736
Volz booth #2739
MicroPilot booth #1513
Orbital doesn't have a booth this year but I will be supporting meetings with their CTO.
Skygraphics doesn't have a booth this year but I will be available to discuss rescue/recovery parachute solutions.
I have noted these on the exhibitor map below.  AUVSI has a great floorplan tool for searching for companies to help prepare for your trip.  Here is the link:  http://www.auvsishow.org/auvsi2015/public/EventMap.aspx?shMode=E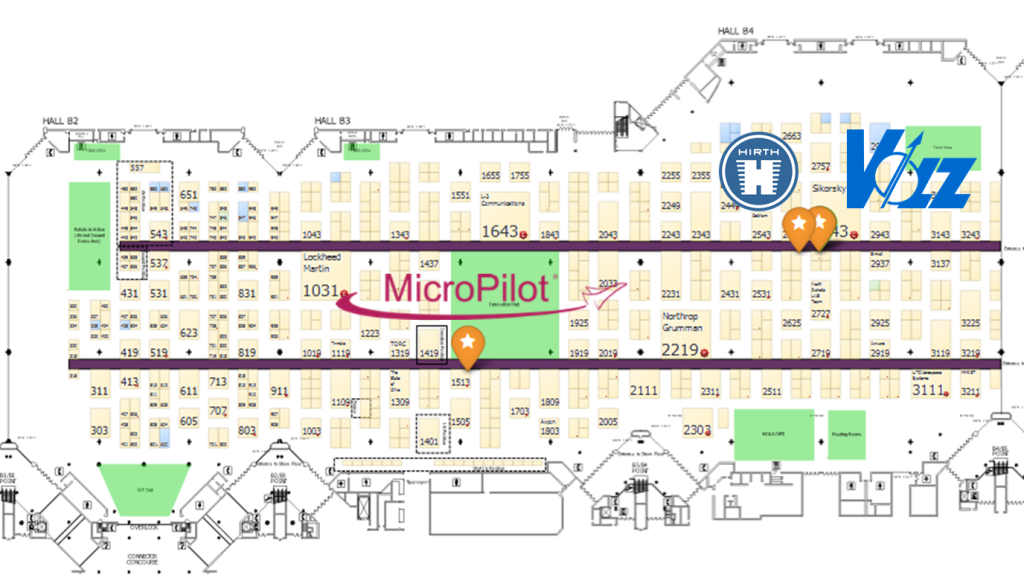 Check out my website: www.uavpropulsiontech.com for more info on the UAV solutions I can provide.  If you are working in the unmanned market then this is definitely the trade show for you.  You can network with customers, potential suppliers and get a better understanding of the market.  This is always a busy week for me but is always worthwhile.   I do attend other trade shows to market UAV solutions but this one is definitely the largest and most focused on UAV's.
I usually attend AUSA (the annual Army Conf in DC) which is focused on everything sold to the US Army.  You will see UAV's there but mainly the larger prime contractors.  There used to be a conference in Europe hosted by Shephard's (UV Europe), which was a smaller event but European focused.  At the moment there isn't a large UAV focused event in Europe.  AUVSI hosts a small event in Brussels so maybe this will get larger and become the "go to" UAV event in Europe.  There are UAV exhibits at the Paris and Farnborough Air Shows but again, not as focused on UAV's as Unmanned Systems 2015 trade show.  Similar comments about Avalon Air Show in Australia, Eurosatory, EuroNaval, DSei, IDEX and the Singapore Air Show.  All great shows but not as heavily focused on UAV's.
If you attend the show, look me up.  I would enjoy discussing how I could support your US UAV programs.
Key UAV News for the Week:
Industry Events for the Week:
Quote for the Week:
"A strong America is the world's best hope for peace and freedom. Yet the cause of freedom rests on more than our ability to defend ourselves and our allies. Freedom is exported every day, as we ship goods and products that improve the lives of millions of people. Free trade brings greater political and personal freedom" George W. Bush