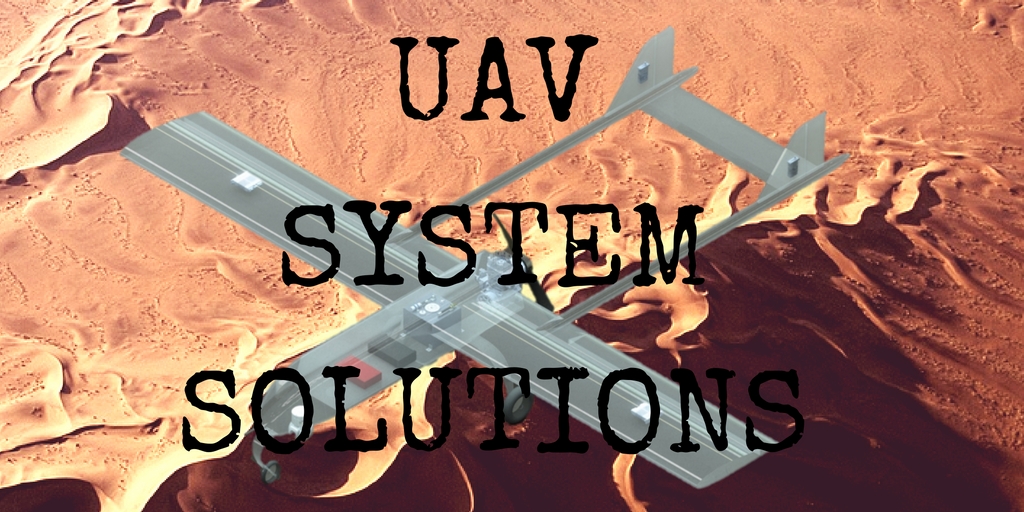 UPDATED AUG 9, 2017: UAV's require several systems to keep them in the air and allow them to complete their mission.  I have been working in the UAV business over 10 years mainly supporting propulsion systems but in the last 5 years I have expanded my business to include other systems.  My focus for UAV Propulsion Tech, is to find the best UAV solution providers outside of the US and offer their solutions into the US and global UAV market.  I thought I would summarize these solutions in this months blog.
The graphic below shows the systems that will be detailed further below.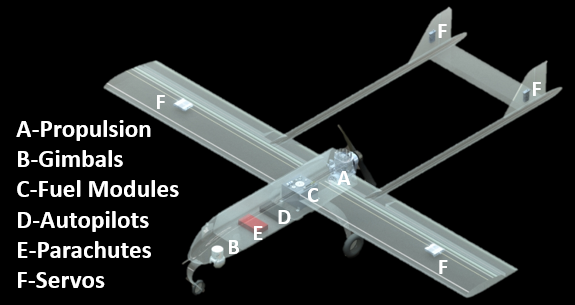 A: Propulsion- This is what keeps the UAV  in the air but also provides electrical power to the air vehicle and payload via a generator.  It also can include an engine mount which is critical to minimize vibration transmission to the payload which can cause camera issues.  It also typically has an engine management system that interfaces with the flight computer to monitor engine health (like cylinder head temp, exhaust gas temp, throttle position, manifold air pressure, and can also calculate fuel consumption).  The propeller is tested with the engine (and sometimes supplied) but is usually specified by the UAV manufacturer's aerospace engineers.  The propeller can be direct driven from the engine or utilize a propeller speed reduction system (either belt or gear) to allow the UAV to utilize a larger propeller spinning at a lower speed.  This decreases noise and increases thrust.
UAV Propulsion Tech provides propulsion solutions from Neva Aerospace (United Kingdom) and AeroSteyr/Hirth (Austria/Germany).
Neva Aerospace's expertise is in electric turbofans (ETFs) optimized for static thrust for VTOL/STOL.  The unique turbofan housing design further ingeniously boosts thrust with no extra weight added.  The breakthrough technology of the Athena Series ETFs will displace uncaged rotor blades in the current commercial drone applications and will create exciting new possibilities for the development of the next generation of unmanned aerial systems.  Neva Aerospace is a European consortium based in the United Kingdom. It partners with key clients, technology suppliers, and financial institutions to develop technologies for unmanned air vehicles (UAVs), Unmanned Air Cargo(UAC), aerial robotic platforms (ARP), and electric aviation. It owns a portfolio of patents and technologies which are among the most advanced worldwide. As of January 2016 Neva Consortium counts 5 companies with more than 100 people.
You can find out more by visiting my Neva Aerospace page at http://uavpropulsiontech.com/neva-aerospace-electric-turbofans/ or www.neva-aero.com.
Hirth's expertise is in COTS and custom 2-stroke aircraft engines and they currently produce engines from 8hp to 100hp.  They have been in business for almost 100 years and have produced over 1 million engines.  Their 2-strokes are used in ultralights, powered parachutes, gyrocopters, gliders, hovercraft, generators, water pumps, go-karts and UAV's.  Their technologies include advanced engine management systems for both gasoline and heavy fuel, integrated starter/generators and relationships with some of the most reputable 2-stroke components suppliers in the world.  Their UAV customers (in the public domain) include: Saab Skeldar, Indra Pelicano, EMT Luna, Dronetech AV-1 Albatross, Northrop Bat, Denel Seeker 200, Ruag Ranger, and IDS Hero-150.
You can find out more by visiting  my Hirth page at http://www.uavpropulsiontech.com/hirth or http://www.hirth-engines.de
B: Gimbals- The primary UAV payload is typically a gyro-stabilized electro-optical (EO) and infrared (IR) camera gimbal.  The payload can also have a laser range finder or pointer.  These gimbal systems also have optional video tracking, geo-location and geo-positioning.  UAV Propulsion Tech provides gimbal solutions from DST Control (Sweden).  These systems are flying on several UAV's today and their OTUS-U135 is one of the smallest gimbals on the market with the best value for the advanced capabilities it provides.  The OTUS-U250 is a 10″ gimbal and is the largest in the DST Control family and is very cost competitive compared to other solutions of similar size.

You can find out more by visiting my DST Control page at www.uavpropulsiontech.co/dst-control or www.dst.se.
C: Fuel Modules-Another critical system in a UAV is the fuel delivery module.  This would typically include a fuel tank, fuel pump, and fuel level sensor.  The operation  of the UAV can impact delivery of fuel to the engine which can cause fuel starvation and engine stall.  Critical events can include launch, altitude pressure changes, and flight maneuvers (pitch/yaw).  The fuel delivery module also has to provide a means to minimize slosh effects and provide filtered fuel to the engine.  Shown below is a fuel delivery module concept from UAV Propulsion Tech that shows a COTS configuration that can be customized for specific applications.  This is shown just to illustrate a typical tank system and won't be finalized until late 2018.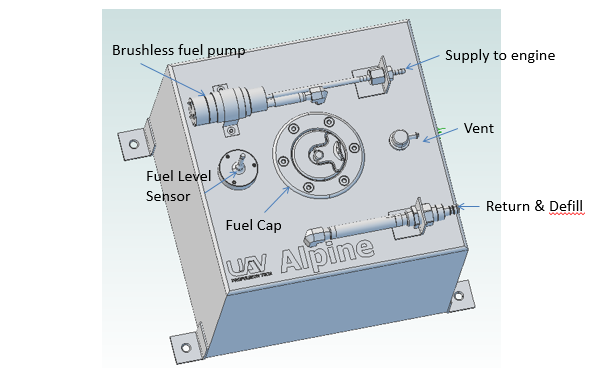 A key component of the fuel delivery module is the fuel level sensor.  I started representing Reventec, Ltd. out of the United Kingdom in July 2017 and offer their capacitive liquid level sensors, fuel flow sensors as well as engine sensors (throttle, temperature, speed).   The company was established in 2013 by Neville Meech, an experienced and internationally recognized design engineer. Having previously led the Motorsport design activities for a UK sensor company, Meech brings a vast amount of experience working with some of the most recognized race teams and sports car manufacturers in the world, predominantly within Formula 1®, ELMS/IMSA, WEC and IndyCar.  Reventec now has a rapidly growing design team, combining a huge range of mechanical and electronic design expertise.  Reventec are primarily involved in the development of products for use in harsh environments, with particular experience in the design of products for military vehicles, unmanned aircraft, race cars, industrial machines, specialist vehicles and equipment.

You can find out more by visiting my Reventec page at: http://uavpropulsiontech.com/reventec-liquid-level-sensors-engine-throttletempspeed-sensors/ or visiting www.reventec.com
D: Autopilots-The autopilot is a critical system of a UAV and is responsible for controlling the flight of the UAV.  It ties into several UAV systems to enable autonomous or remote piloted flight.  The autopilot links to a ground control station (GCS) via a radio modem and the GCS is used to develop waypoints for the flight plan and monitor operation.   UAV Propulsion Tech provides autopilot solutions from MicroPilot (Canada).  MicroPilot has been providing professional autopilots for the UAV market for over 20 years and has systems flying all over the world.  Their autopilot solutions include board mount (weighs only 28g), enclosed (includes redundant long range communication data link) or triple redundant (3 autopilots for ultimate reliability).  These solutions have been developed for fixed wing, multi-copter, and helicopter applications.  MicroPilot's autopilots are not open source but they do offer XTender which is a software developers kit to enable customization.  This allows the UAV customer a way to differentiate their UAV from their competitors.  MicroPilot's True Hardware-in-Loop simulator offers UAV integrators and researchers the highest fidelity autopilot simulation available on the market today.
You can find out more by visiting my MicroPilot page at www.uavpropulsiontech.com/micropilot or www.micropilot.com.
E: Parachutes – Parachutes can be used in a UAV as a means of recovery (instead of a net or runway) or as a means of rescue in case of a system failure.  Most are used for rescue situations to save the air vehicle and payload assets.  The challenge is always trying to find space for a parachute and deal with the added weight.  UAV Propulsion Tech provides parachute solutions from Skygraphics (Germany).  Their ProtectUAV parachutes provide a lightweight/compact solution over other products on the market.  They are currently being utilized by several UAV companies and ProtectUAV also recently launched a multi-copter solution.  ProtectUAV's solutions cover fixed wing applications up to 200kg MTOW and multi-copter applications up to 28kg MTOW.
You can find out more by visiting my Skygraphics page at www.uavpropulsiontech.com/skygraphics or www.protectuav.com.
F: Servos-Another critical component for UAV's are servos.  Servos are used to move control surfaces (like rudder, ailerons, flaps, etc.), control the engine throttle and sometimes used to trigger certain options (like a compartment door for a parachute).  UAV Propulsion Tech provides servo solutions from Volz (Germany).  Volz has been designing/producing high end servos since 1983 and are flying on several UAV's including Aerosonde MK4.7, Northrop Bat, Schiebel Camcopter, Airbus target drones, Lockheed Martin Fury, Aeronautics Orbiter and several others.  They provide a complete range of servos from DA15 (15mm) to DA30 (30mm) and are now offering redundant and OPV (optionally piloted vehicle) variants of their larger DA26 and DA30 servos.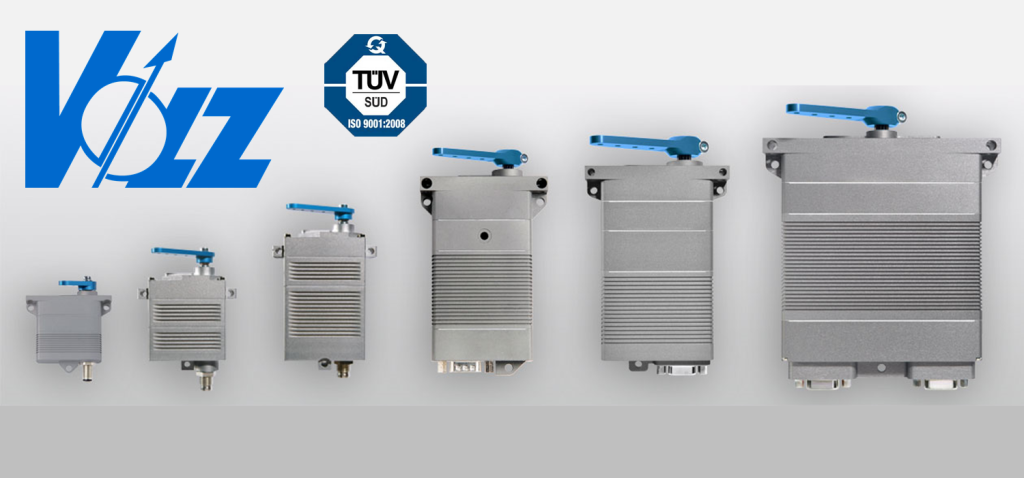 They also have throttle servos that can be mounted directly to the engine throttle and can withstand the vibration because of their brushless motor and contactless sensor design.
You can find out more by visiting my Volz page at www.uavpropulsiontech.com/volz or www.volz-servos.com.
Launchers:  Another key system that I can provide for small fixed wing UAV's is a pneumatic launcher from Eli Airborne Systems out of Estonia.   This UAV pneumatic launcher has been developed to accelerate UAV-s and other aircraft with MTOW up to 40 kg and launch them at speeds up to 25m/s. The launcher is light-weight, battery-operated and is quickly assembled. The system is easily portable in two special rugged cases. Custom carriage rods can be designed based on clients UAV specifications.  Eli Airborne Solutions is a leading developer of military solutions.  They also produce a parachute release mechanism that automatically separates the parachute from the UAV when the UAV is on the ground to protect the wind from dragging the air vehicle and causing damage.

You can find out more by visiting my Eli pages: Launcher – http://uavpropulsiontech.com/Eli Airborne Systems or http://eli.ee/
---
Key UAV News for the Week:
Industry Events for August:
Quote for the week:
"The human spirit is like an elastic band. The more you stretch, the greater your capacity." – Bidemi Mark-Mordi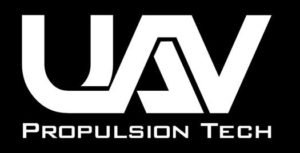 UAV Propulsion Tech is unmanned aerial vehicle (UAV) hardware solution provider of propulsion, servo, autopilot, rescue/recovery parachutes, electric turbofans, pneumatic launchers, capacitive liquid level sensors, engine sensors and gyro-stabilized EO/IR gimbal solutions. Click on the HOME link above or go to www.uavpropulsiontech.com for more info.