Reventec Ltd is a UK-based mechanical and electronic design consultancy, specializing in the design and development of technologically advanced products within the motorsport, defense, aerospace and industrial sectors.
The company was established in 2013 by Neville Meech, an experienced and internationally recognized design engineer. Having previously led the Motorsport design activities for a UK sensor company, Meech brings a vast amount of experience working with some of the most recognized race teams and sports car manufacturers in the world, predominantly within Formula 1®, ELMS/IMSA, WEC and IndyCar.
Reventec now has a rapidly growing design team, combining a huge range of mechanical and electronic design expertise.  Reventec are primarily involved in the development of products for use in harsh environments, with particular experience in the design of products for military vehicles, unmanned aircraft, race cars, industrial machines, specialist vehicles and equipment.
Reventec has two core principles; to provide world-class mechanical and electronic design solutions and to deliver them in rapid timeframes.  Check out www.reventec.com for more info on the company and sensors (capacitive fuel level, temp sensor, speed sensor, rotary position sensors) and www.sentronics.com for  more info on ultrasonic fuel flow sensors.
Liquid Level Sensors:
Reventec is the world leader in the design and supply of advanced customized capacitive liquid level sensing technology. We globally supply our products to a diverse range of markets including all tiers of motorsport (Formula 1 through to Clubman rally), Aerospace/Defense Sectors, Unmanned Vehicles, Marine Vessels and Industrial/Off-Highway Vehicles. With over 30 years of combined engineering expertise in the design & production of bespoke capacitive measurement solutions.
Capacitive level sensing technology works by simply measuring the permittivity difference between air and the fluid level change between the probe's electrodes. Our highly advanced capacitance sensing technique and proprietary measurement algorithms allow precise and stable level readings even under the harshest of environmental conditions.
EcoSense Liquid Level Sensor

EcoSense is a next-generation solid-state capacitive sensor, capable of continuous level measurement in all common liquid types. The modular sensor allows for a wide range of mounting options with the use of a custom or stock mounting adaptor (pictured with 3-bolt mounting adaptor).
Solid-state, continuous liquid level sensing
±2% full scale accuracy
No measurement dead-band
FIA homologation certified
0-5V Configurable Output
Customisable Length
Multiple mounting arrangements available
ProSense Carbon Liquid Level Sensors
ProSense™ capacitive level sensors are custom designed to your requirements. Proven in harsh environment applications, the sensors are suitable for use with most liquid types.
Suitable for all common fuels, hydrocarbons and other liquids
Solid-state, continuous liquid level sensing
±0.5% full scale accuracy
Designed for long-term reliability in harsh environments
Custom designed to your requirements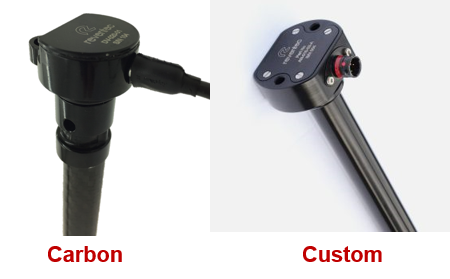 ---
Engine Sensors/Fuel Flow Sensors:
BROCHURES:
Call +1 (810) 441-1457 or Email:bob@uavpropulsiontech.com for cost/delivery.