UAV pneumatic catapult
This UAV pneumatic launcher has been developed to accelerate UAV-s and other aircraft with MTOW up to 40 kg and launch them at speeds up to 25m/s. The launcher is light-weight, battery-operated and is quickly assembled. The system is easily portable in two special rugged cases. Custom carriage rods can be designed based on clients UAV specifications.
Eli Airborne Solutions is a leading developer of military solutions and is located in Estonia. www.eli.ee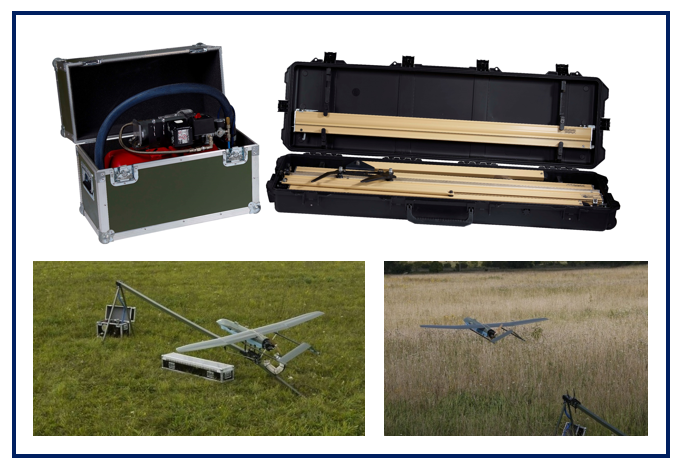 Specifications
| | |
| --- | --- |
| Launch angle | 11 degrees |
| Overall rail length when assembled | 5m |
| Rail length when disassembled | 1,28 m |
| Weight of catapult set, 2 boxes | Total 56kg |
| Launcher case external dimensions | 1480x440x170mm |
| Compressor case external dimensions | 650x325x520mm |
| Maximum plane mass | 45 kg |
| Maximum allowed launch velocity | 25 m/s (meter per second) |
| Puller configuration aircraft | YES |
| Pusher configuration aircraft | YES |
| Typical set-up time | 5min |
| Compressor unit battery | 2 X Makita®14.4V Li-Ion battery 3Ah |

BROCHURE LINK: ELI UAV Launcher PL-40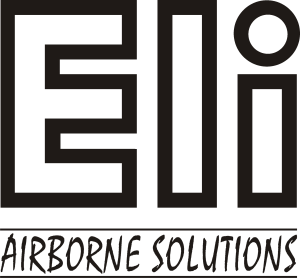 In harsh weather conditions, the parachute canopy may remain filled with air after landing, dragging and potentially damaging the air vehicle.  Our parachute release system is built to provide an effective and reliable solution for this problem.  Our unique patented system is easy to operate and cost effective.  Specific innovation is in the parachute to air vehicle connection and the system that immediately disconnects the air vehicle from the parachute upon impact with the ground.  The device is simple and very reliable as it is a light-weight mechanical solution with no electronic parts.  The maximum UAV operation weight for the device is 50kg.  Custom release systems can be designed according to clients specific UAV needs.
Size: 80mm length, 17mm diameter, 50g weight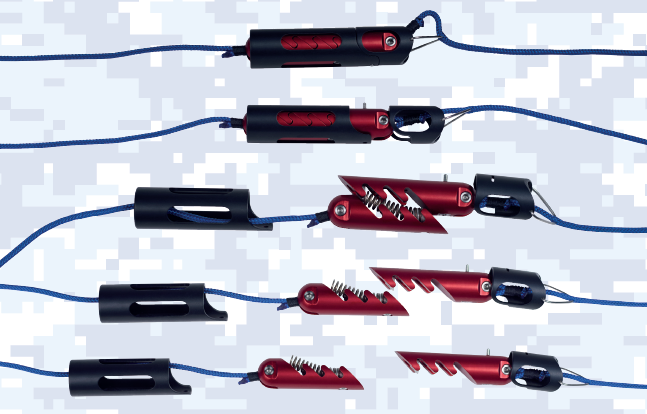 BROCURE LINK: ELI UAV-Parachute Release System
Call +1 (810) 441-1457 or Email: bob@uavpropulsiontech.com for cost/delivery.
---